We specialise in alloy wheel repairs and car body repairs for private customers and motor trade dealerships…..
Premier Paint opened in 2004 originally carrying out mobile cosmetic car repairs. Since then we have expanded into a full time car body repair centre with over 24 years of car body repair and alloy wheel refurbishment experience.

Our Customers reviews.....
I just wanted to contact you to thank you for the great job you did on my vehicle.  The service was superb – quick, efficient, in fact, perfect!
I will not hesitate to call on you again, should I need your services in the future.
Cheers
Chris Kamara
"Kammy"
Sky Sports Pundit and Ex Professional Footballer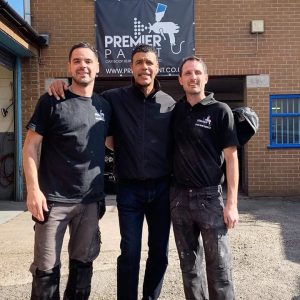 I have been using Premier Paint for many years now. Unfortunately I do find it all too easy to kerb an alloy wheel. Then there are the idiots that have opened car doors too hard on mine. Premier Paint has been amazing making good of the damage.  Thank you. Top Job, Every time!"
Guy Harris
Ex Real Radio Saturday Morning Show Presenter
Just a quick email to say a big thank you for the repair of our Mercedes bumper damage, You really did a great job of repairing it and it looks like new if not better than new. Every aspect of the your service was first class from the day you gave us a estimate to the day it was repaired. We will pass your number on to friends and family and will use you again if we need any more repairs doing on our car.
Kind Regards
Richard and Gene Butler

Fantastic craftsmanship from Chris and the guys. Really sorted out my kerbed diamond cut alloys and some body repair work. Made a 4 year old car look like it's just driven out of the dealership. Great work and thank you.

Absolutely fantastic work carried out by Chris and the team. Had a X reg BMW 728i in for a full respray recently and the results are brilliant. Have used Premier Paint for a number of years and always impressed with the work they do.

Richard Bewley
2021-10-14
I phoned Chris at Premier Paints this morning as my 4 year lease car is being collected in a few weeks time. The front colour coded bumper had met with some pretty hardy shrubbery. I popped by this afternoon for a quote and was so pleasantly surprised - Chris was able to polish out the scuff marks on the spot. Great service, great value and such a sense of relief to get this sorted before the vehicle inspection. First rate and I cannot recommend enough. Thank you!

Thanks to Chris & his team for a fantastic car body repair job. First class service.

Work was done to a high standard, price was reasonable and we got the car back when we were told would use again

I had a smart repair done on my hyundai I20.When I went to pick my car up I was well impressed at the end result.Chris and his team did a first class job. I would highly recommend this company. Charles Riley.

Kristy Pawlikow
2021-06-17
Premier Paint did an excellent job on my white BMW, after a black car ran itself all the way down the side of my paintwork. The work Chris and his team did looks as if it never happened. Great customer service - Premier Paint cannot do enough. My car looks brand new. Thank you. Would definitely recommend.

Chris and his team are excellent! Great work repaired a scrape on front of car and made it look like new again, good value too, highly recommend.


Good customer service.